Celebrating Mothers Day
Spring has sprung at last, the sun is shining, and Mother's Day is upon us.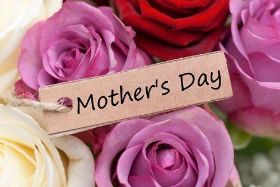 Mother's Day always falls on the fourth Sunday of Lent, exactly three weeks before Easter. It's a day to celebrate motherhood, and traditionally, children give cards and gifts to their mothers and grandmothers.
As well as chocolates and other gifts, lots of lucky mums receive flowers as a token of their children's appreciation. Flowers are a lovely way to say thank you to your mum for all she does for you, as well as bringing the joys of spring into the house.
Our most popular Mother's Day orders are always hand-tied bouquets in water. These beautiful bunches are much loved because as well as looking bright and colourful, they come in water, in a self-contained package that's easy to carry and display. So no need to worry about finding a vase.
If you're looking for something a bit different, you could go for a hand-tied arrangement in a basket, or even in a handbag.
How do you celebrate Mother's Day in your family?