Questions to ask your wedding florist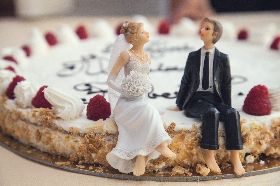 When you're planning a wedding, there's a lot to think about. You might find that your mind is whirring with questions, and it can be hard to keep track of all the things you need to do. So, to make life a bit easier for you when it comes to getting your wedding flowers sorted, here are the top questions you need to ask your florist to make sure you get the effect you want.
Are you available on my wedding date?
No prizes for guessing why this question is on the list. Many florists can do more than one wedding in a day, so it could be worth asking how many other bookings they've got on your date, and what the maximum number of bookings they'll take per day.
What flowers are in season?
These days, most flowers are available all year round, so if you've got your heart set on something in particular you shouldn't have any problems getting it. But, we would always recommend using flowers that are naturally in season around the time of your wedding. As well as making it more economical, sticking to seasonal flowers is more natural.
Can I see examples of your work?
This is a no-brainer. Chances are you'll have seen examples of the florist's work on their website before you contact them (you can see ours here). Checking out the weddings a florist has done before will give you an idea of their style, and provide inspiration for your flowers. Remember, you can always ask to see more if you feel like you haven't seen enough.
Do you offer specific packages or is everything customised?
Some florists offer wedding packages, which include certain arrangements for a set price. Others will customise your order, so you can pick and choose what to include and be charged accordingly.
Are you familiar with the ceremony and reception venues, and have you done weddings there before?
It's not essential for the florist to know your venue, but it can be helpful. If they've done weddings there before, ask to see photos to get some inspiration. If they haven't done a wedding there before, it can be useful to arrange to visit the venue with the florist. They'll be able to get to know the place before the day, and make suggestions on how to decorate. Check if there's an extra fee for this.
Will you move flowers from the church to the reception venue?
If you're having a church wedding with a reception at another venue, it can be more economical to use your church flowers as part of the decoration at the reception venue. Some florists (including us) will be able to take your church flowers to your reception venue after the ceremony - usually while you're having your photos taken - and set them up at the venue ready for your reception. It's worth checking if your florist can do this, and if there's an extra fee for it.
Can you work with my budget?
As with every part of your wedding, it's sensible to have a budget in mind and make sure this is feasible before you book. You don't want any nasty surprises when you get the bill.
Which flowers can be substituted to better fit my budget?
If your budget is a little stretched, it's worth asking your florist if they can recommend alternative flowers. They might be able to suggest different, cheaper flowers that look similar to what you've got in mind, and that achieve the same overall effect for a slightly smaller price tag. It's worth asking.
How and when do I need to pay?
Find out whether you'll need to pay in cash or by cheque, and when the payment will be due. Most florists will ask for a deposit when you book, with the balance due a couple of weeks before the wedding. Others may let you pay in instalments as long as the balance is paid off before the big day.
Will you work with my cake designer if I want to add flowers to my cake?
Fresh flowers can make a lovely decoration for your wedding cake, and it shouldn't be a problem for your florist to provide flowers for this. It's worth checking if there's an extra fee for this, though.
Can I change my mind?
Although it's not unusual for ideas to change and evolve as you plan your wedding, it's wise to agree a cut-off date for final decisions. Most florists will need to have everything confirmed a couple of weeks before the big day.
Do you provide other décor and accessories?
As well as bouquets and centrepieces, lots of florists now provide balloons, chair covers, vases, candles and other decorations for your venue. See what options are available and whether they'll suit the style of your wedding. You can see our extras here.
When you've got the answers to these questions, you should be well on your way to beautiful wedding flowers to suit your style and your budget.