Tips for going to a wedding fayre
When you're planning your wedding, chances are you'll go to at least one wedding fayre.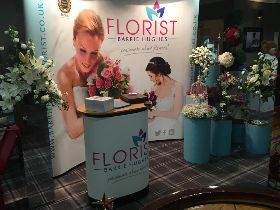 They're a great way to meet lots of different wedding suppliers in one place, so you can get a lot of stuff sorted (or at least get lots of ideas) in one fell swoop. But, they can also be busy and overwhelming, so we've put together our top tips to help you prepare for a wedding fayre, and get the most out of it.
Make a list of what you need
Depending on where you're up to with your planning, you may already have a few things sorted, like the venue, for example, before you go to a wedding fayre. Making a list of things you still need to choose can help you stay focussed, so you know which stands to look at and which ones you don't need to bother with.
Stay focussed
It's easy to get carried away at a wedding fayre. Whilst wedding fayres are a great way to get ideas, and you should definitely keep an open mind, be careful not to fall for a good sales pitch and end up booking something you didn't actually want.
Don't feel pressured, but don't miss out
Having said that, lots of suppliers offer discounts if you book with them on the day, so you can get a bargain. This can be a great way to save money, but it's only worth it if it's something you genuinely want. Don't feel pressured into booking something you're not quite sure about just because of the discount.
Take your time
There's no need to rush around a wedding fayre. Take your time. All the suppliers have paid to be at the event for the day, and they're there to talk to you about what you want. You can often leave the fayre with a stamp on your hand, so you can take a break for a coffee or some fresh air, and come back in refreshed and ready for round two.
Follow up
You're going to see lots of different companies all in one place, and it'll be almost impossible to remember which one you particularly wanted to check out afterwards. Make sure you take business cards from the suppliers you're interested in, so you can check out their websites later, and get in touch with them after the day.
Enjoy it
Planning your wedding is a special time, so try to make the most of it and enjoy the experience.
We love chatting to couples about their wedding plane - why not come to see us at our next wedding fayre?